Flour milling industry as a traditional industry in our country, nearly a decade to the speeding the development, and is currently the fastest growing period, has made great achievements, variety of flour products increase steadily, tailored flour, and all-purpose flour customization expand the development of the industry space, thus to promote the whole flour milling industry in line with international standards, management & technological innovation have made great achievements.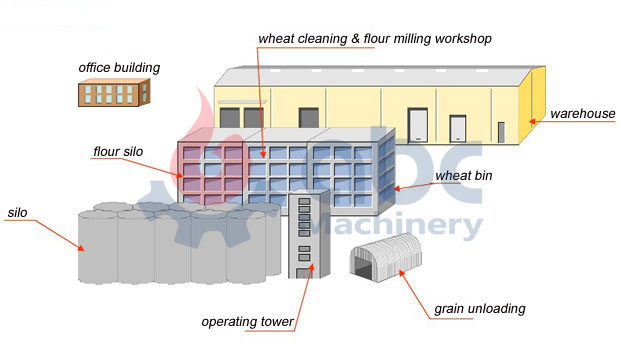 Modern Flour Mill Development Approach
1. Build new flour mill factory, take advanced equipment and technology as support, the threshold that builds a factory and administrative levels are higher and higher, dimensions is bigger and bigger.
2. Through the association between strong enterprises, the construction of a more competitive new flour enterprises.
3. Through low-cost expansion, to achieve asset restructuring, expand the strength of flour mill company.
The flour factory is divided into four sections from raw grain to finished products: silo system, cleaning system, flour milling system and post-treatment system.
The silo system is mainly responsible for the storage and initial cleaning of wheat, mainly composed of unloading pits, operating tower and silos.
Cleaning system can be divided into two lines, using three screening, three stone removal, two threshing wheat, two water cleaning process, and with two water moistening wheat system.
Flour milling is the process of cleaning, grinding and sifting wheat into flour by means of high square sieve, flour cleaner, flour mill machine and other equipment. Generally, there are 1-3 kinds of flour produced and stored in the flour bin.
The main core of post - treatment is blending powder. Different types of flour are blended and modified to meet the quality requirements of a flour.
Whether it is a single flour mill machine, small flour production line, complete sets of flour milling equipment, we provide customized services for you, any question, welcome to consult at any time.
Get in touch now
We receive enquiries in English, Español (Spanish), Русский язык (Russian), Français (French) and العربية (Arabic). Our professional team will reply to you within one business day. Please feel free to contact us!