FFC series flour making machine is a small kind of machine that grinds various kinds of food sale at best price, Chinese medicinal materials etc into a uniform powder. It is grinded by two grinding discs filled with toothed grooves to grind the material into powder. Continuous feeding operation, precise structure, small noise, simple operation, fine grinding, no dust.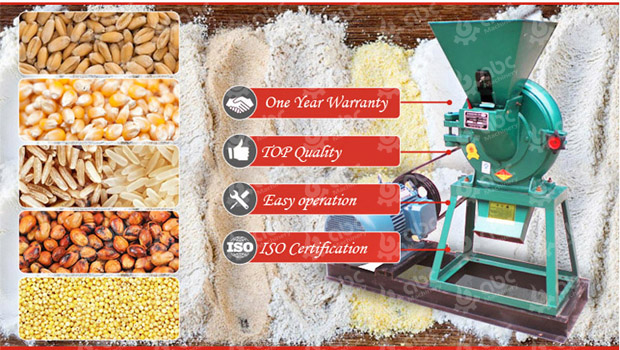 Working Principle
Our FFC small flour making machine is mainly composed of feeding hopper, rotor, tooth disk, sieve, chassis, machine seat, motor etc. After the material goes into the crushing chamber, in the round, flat tooth and tooth plate are bombarded with rub bump, quickly broken into powder or paste, under the effect of centrifugal force and air flow, the emitted through the mesh the discharging port.
Wide Processing Range
All kinds of grain contain sesame, sorghum, soybean, corn, oat, barley, millet, cassava, rice, maize, wheat flour making.
All kinds of dried herbs include almond, poria, red jujube, euryale, wolfberry, coix seed, hawthorn, red bean, glue, frankincense, dodder, angelica, Codonopsis pilosula, astragalus, etc.
It is a flour making machine suitable for medicine, agriculture, food, chemical industry, alloy, metallurgy, geology, scientific research, etc., in small batches of herbs, precious herbs, minerals and chemical raw materials.
Get in touch now
We receive enquiries in English, Español (Spanish), Русский язык (Russian), Français (French) and العربية (Arabic). Our professional team will reply to you within one business day. Please feel free to contact us!