There are two flour milling method when use corn processing machinery, one is dry milling and the other is wet milling. In the process of corn processing, the key of maize flour quality depends on embryo remove, it is also the important indicators of corn dry milling technology. And according to the height of water adjust, corn germ extraction can be divided into dry method and wet method and half wet method.
Corn Dry Milling for Corn Flour Production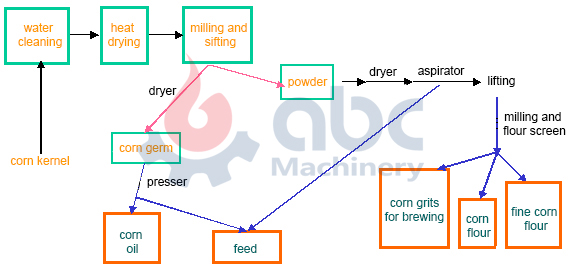 This method does not need corn water conditioning, it uses mechanical method directly to extrude or impact rub work together after rolling grinding, this makes the corn skin, embryo and endosperm separate. This method has the features of simple process, low energy consumption, no pollution, but the low efficiency of embryo extraction, embryo contains starch.
Corn Wet Milling for Corn Starch Production

It grinds the wet corn which after water soaked, then separate the starch with corn bran, embryo. This method of germ extraction efficiency can reach 85% ~ 95%, however, the machinery investment is large, the production cost is high.
Because of using the method of wet milling of corn processing machinery can be quite a fineness of the powder, so the wet method used a lot in the history. Along with the development of the dry milling method, crushing machinery of dry corn milling appear, which makes the corn flour particle size can be controlled to a few microns. Therefore the development of today's corn dry milling can get up to the same effect as wet milling.
Click to see the 80TPD corn flour and grits plant in Uganda
Get in touch now
We receive enquiries in English, Español (Spanish), Русский язык (Russian), Français (French) and العربية (Arabic). Our professional team will reply to you within one business day. Please feel free to contact us!