Since time immemorial, man has been producing flour. It started off with stone grinding then it evolved to mortar and pestle and thereafter to manual hand operated devices. The largest evolution was windmills and such like that allowed for flour to be ground on a larger scale. Over time this has since been improved into manual flour mill plant and now into the fully automatic flour mill plant for large scale flour production.
The fully automatic flour mill plant are well known in the food processing industry. It can be small, medium or large in terms of size.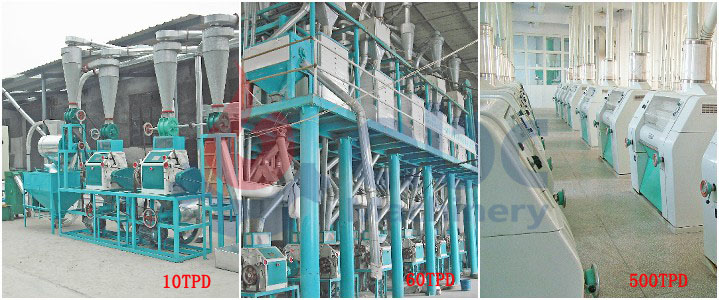 Undertake Turnkey Project of 10-500TPD Fully Automatic Flour Mill Plant
It is advantageous because it has enabled control in the processing of flour, from the raw material to the finished product. The control of the process has enabled people to have better quality flour. Because it is easier to control this means that mistakes have been limited due to the control in the process. It safe and reliable as the chances for human error have been minimized and this has resulted in better quality flour.
Customer satisfaction is also achieved as a result of the fully automatic flour mill plant
Due to the fact that they are automated, they are less labor intensive. It minimizes human intervention and makes it less labor intensive and saves the labor costs.
There is higher efficiency at the fully automatic flour mill plant because people working there can concentrate on doing what they can do best and specialize in tasks that the machines cannot do.
It enables the systematic running of processes. This is because in the flour milling plant things are arranged in a manner that makes sense. The bagging cannot happen before the grinding takes place.
There is increased profitability for the fully automatic flour mill plant and also the millers and the producers of raw materials. This is because of minimized waste and better quality and high efficiency.
In short, the better quality produce, better quality of life for the consumers and the laborers, more flour produced in shorter amounts of time compared to those using manual four mills, and more profitability for all involved as a result of the fully automatic flour mill plant.
Get in touch now
We receive enquiries in English, Español (Spanish), Русский язык (Russian), Français (French) and العربية (Arabic). Our professional team will reply to you within one business day. Please feel free to contact us!