Maize is a significant source of food for most people in the world. It's a vehicle for minerals and vitamins deficiency intervention. Maize products are produced by various industrial processes.
What you can do start with a business of small maize milling plant?
Small maize milling plant is the turn-key machine that processes the maize into flour and grits with special grading, fineness, sifting, polishing, grinding, cleaning and germ extraction and much more. The final product can be directly consumed or used as material for further food processing. During the production process the germ can be processed further into oil.
A small maize milling plant uses dry method and great automation solution which further reduces booth production and manual costs. The designs of most models are technologically made to reduce energy consumption while reducing the impurities like bran and dust.
Features of a small maize milling plant
The machine first removes the impurities that come with the maize kernels. One part sorts out qualified size of the kernel and the other polishes and removes the impurities.
The unprocessed maize goes through the cleaning section. The section has a winnowing system and stone removing process.
Maize flour milling section smashes and makes the material granularity suitable for efficient grinding in the flour milling machine.
The packaging and measuring section can be manual or electrical.
Quality finish products from small maize milling plant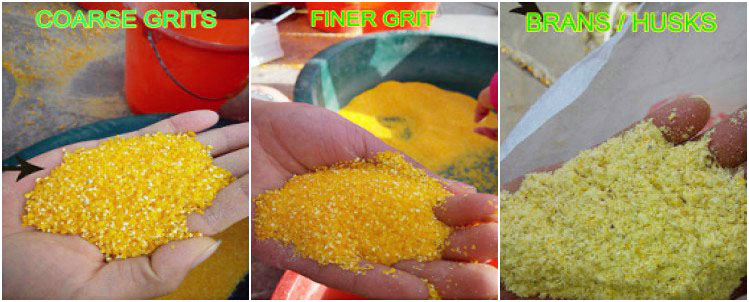 The quality of the final product from a small maize mill plant surpasses national standards and increases competitiveness. The whole plant has technologically advanced features, strong specificity, superior equipment and arrangements, low energy usage, and high flour yield. And the by-products can be used in sugar industry, food processing, beer industry... etc.
Advantages of a small maize milling plant
The complete cleaning technology feature ensures that the end products are of high quality to meet the food standards.
The separation section plays the purpose of equipment safety and confirms that the final product reaches the standards.
It makes use twice de-germination and hulling. This completely removes germ and bran, and lifts the recovering ratio of flour and grits.
The entire maize milling plant works with little labor by adopting the three-continuous working line.
A small maize milling plant aims to revive the basic production of flour sector by placing high technology milling plants in suburbs in smaller capacity. It's believed that food insecurity, unemployment, high food costs, as well as lack of training skills, opportunities and ownership, can be successfully handled with this small maize milling plant.
Get in touch now
We receive enquiries in English, Español (Spanish), Русский язык (Russian), Français (French) and العربية (Arabic). Our professional team will reply to you within one business day. Please feel free to contact us!