If you are planning to build a cassava processing plant, the following steps will help you better understand the cassava processing process. This process can produce cassava starch and flour to meet your different needs.
Our typical cassava processing plant (50t/d cassava flour and 2t/d starch)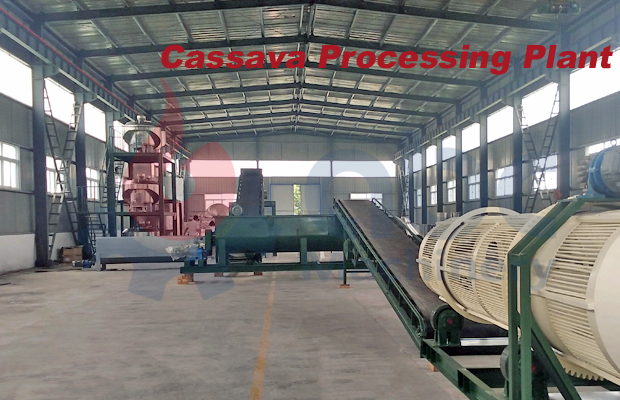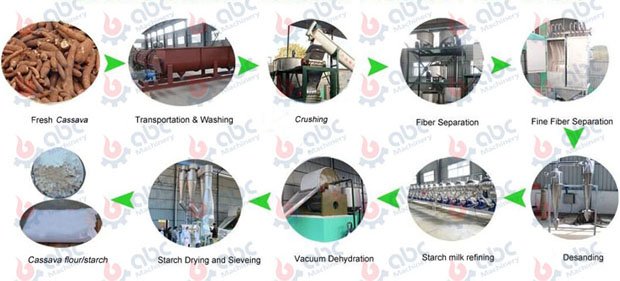 1. Selected raw materials: The quality of cassava starch and flour have a great relationship with the selection of raw materials, and the first step is to put the good cassava into the warehouse.
2. Cleaning and conveying: The purpose of cleaning is to remove sand, soil, peel and facilitate the work of the next process. Cleaning and conveying simultaneously, so the material feeding should be even.
3. Crushing: Because the root of cassava is very long, close to the main pole position is lignified. The purpose of the crushing is to ensure that the grinder operates normally. The second is to improve starch yield and quality.
4. Grinding: After cassava crushing (1cm in diameter), the mixture is crushed into the grinder.
5. Slurry-residue separation: The slurry separation equipment is a full stainless steel pressure curved screen, which is the most advanced screening equipment at home and abroad.
6. Remove sand: The sixth step is sifted, the pulp of the sieve is to remove sand in the coarse slurry desander.
7. Rotary filter: This process is to guarantee the normal work of the disc separator, filter can protect particle materials jam from the disc separator.
8. Secondary separation of disc separator: After secondary separation, starch milk can reach <0.5% protein content.
9. Hydrocyclones: It is made up of nine clusters, which consist of three studios and dozens to hundreds of swirl pipes and slurry pumps to ensure the finished products national standards.
10. Starch dehydration
Get in touch now
We receive enquiries in English, Español (Spanish), Русский язык (Russian), Français (French) and العربية (Arabic). Our professional team will reply to you within one business day. Please feel free to contact us!