How Is The Maize Flour Production Process
Simple introduction of maize flour production process
The maize flour production process in a complete flour mill plant is mostly large-scale full automation. We recommend that small, household use is usually manual or electric flour mill machine, and diesel engine flour mill machine. Maize flour is the main food in kitchens, so it needs to be effectively milling. High quality maize flour production should be ensured by efficient production process.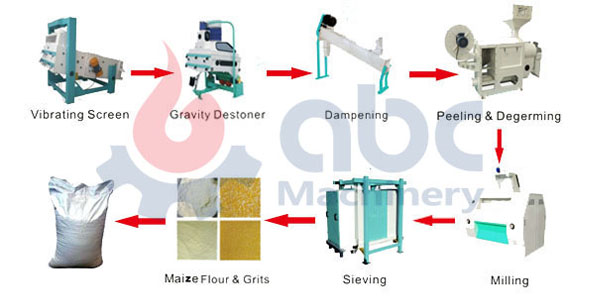 Advantages of maize flour production process
The maize flour production process has introduced many technical tools which makes it simple and convenient operation. The advantage of modern technology is that it gives you the tools you need, and you can do it yourself without anyone's help. It's best to process maize your own because it ensures that you won't eat processed foods that contain potentially harmful chemicals. And this simple maize flour production process ensures that you have the opportunity to eat nutrient-rich foods, which are good for your health.
Maize flour is the product after maize milling process. As long as you have the right tools, there is no problem of maize flour production. Commercial flour mill manufacturer likes to use what is known as the "sterilization" process, it is important because it removes all bacteria from the maize, which eventually increases its shelf life. The disadvantage of this process is that it eventually removes the oil that adds flavor to the maize flour, as well as all the nutrients. By grinding maize flour at home, you can preserve these nutrient-rich.
Get in touch now
We receive enquiries in English, Español (Spanish), Русский язык (Russian), Français (French) and العربية (Arabic). Our professional team will reply to you within one business day. Please feel free to contact us!
© 2015 ABC Machinery All Rights Reserved.